Main content starts here, tab to start navigating
OUR STORY
Bob & Dorothy (Dot) Cook opened Dot & Bob's Candy Shop on Balboa Island in the 1940s. When their son, Don, was about 12-years-old, his mother asked him to put some bananas in the refrigerator but he mistakenly put them in the freezer. When found, the frozen bananas were about to be tossed out when Bob had the idea to dip them in fudge. They dipped another and rolled it in English Toffee crumbs. They were so good that Dot & Bob's started selling frozen bananas.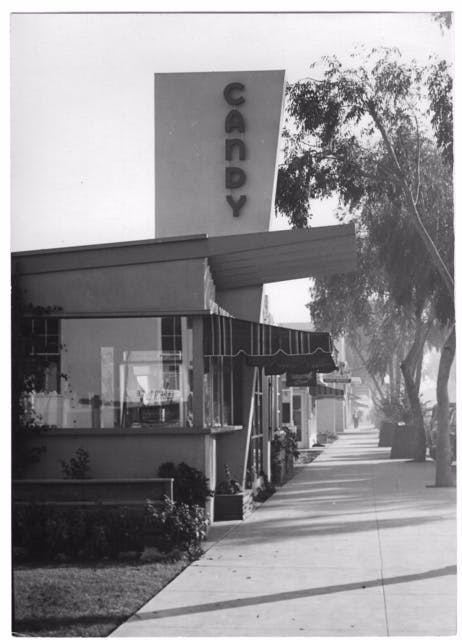 Dot & Bob's was sold in 1945 and became Sugar 'n Spice. They began to also sell blocks of vanilla ice cream with a tongue depressor wedged inside, dunked in melted chocolate, and then covered with a topping – thus the Balboa Bar was born. Brad Schultz (second from the left in the banana yellow uniform) worked at Sugar 'n Spice in the 1960s when Bob Fitch was the owner. Crates of bananas were delivered in the back alley each week and sorted by size. They were peeled, stuck with a stick, and frozen for 24 hours. There was a vat of melted milk chocolate at each window so customers could watch their bananas being dipped and rolled in their choice of toppings – chopped peanuts, crumbled butter brickle, rainbow sprinkles, or chocolate sprinkles (jimmies). In 1995, Helen Connolly bought the business from a woman named Bettie Banto who taught her how to make the perfect Balboa Bar.

SUGAR 'N SPICE & ARRESTED DEVELOPMENT
In the early to mid-2000s, the prime-time TV show Arrested Development brought a lot of attention to the frozen banana as this delicious treat was sold at [the fictional] Bluth's Original Frozen Banana Stand on the boardwalk on Balboa Island! And as can be plainly seen, the show's producers "borrowed" Sugar 'n Spice's Royal Blue logo and even our beloved Banana-man mascot for use on the Bluth's stand. And now that Arrested Development has been renewed for yet another season on Netflix, audiences will be able to enjoy our familiar logo on their TV's for some time to come!

75 YEARS: SUGAR 'N SPICE IN 2020
Helen Connolly, Sugar 'n Spice's 3rd and current owner, has been the proprietor of the shop for more than 20 years now, enjoying each and every day of old friends returning to visit again and having new customers become new friends. From the families who've been enjoying and sharing our treats for generations to the adventurous day-traveler exploring the island for the very first time, we invite everyone to stop by and taste what makes Sugar 'n Spice such a special and delicious part of the Balboa Island community. From our family to yours, come on down and taste the tradition!